Henna Bee Eyebrow Tint Starter Kit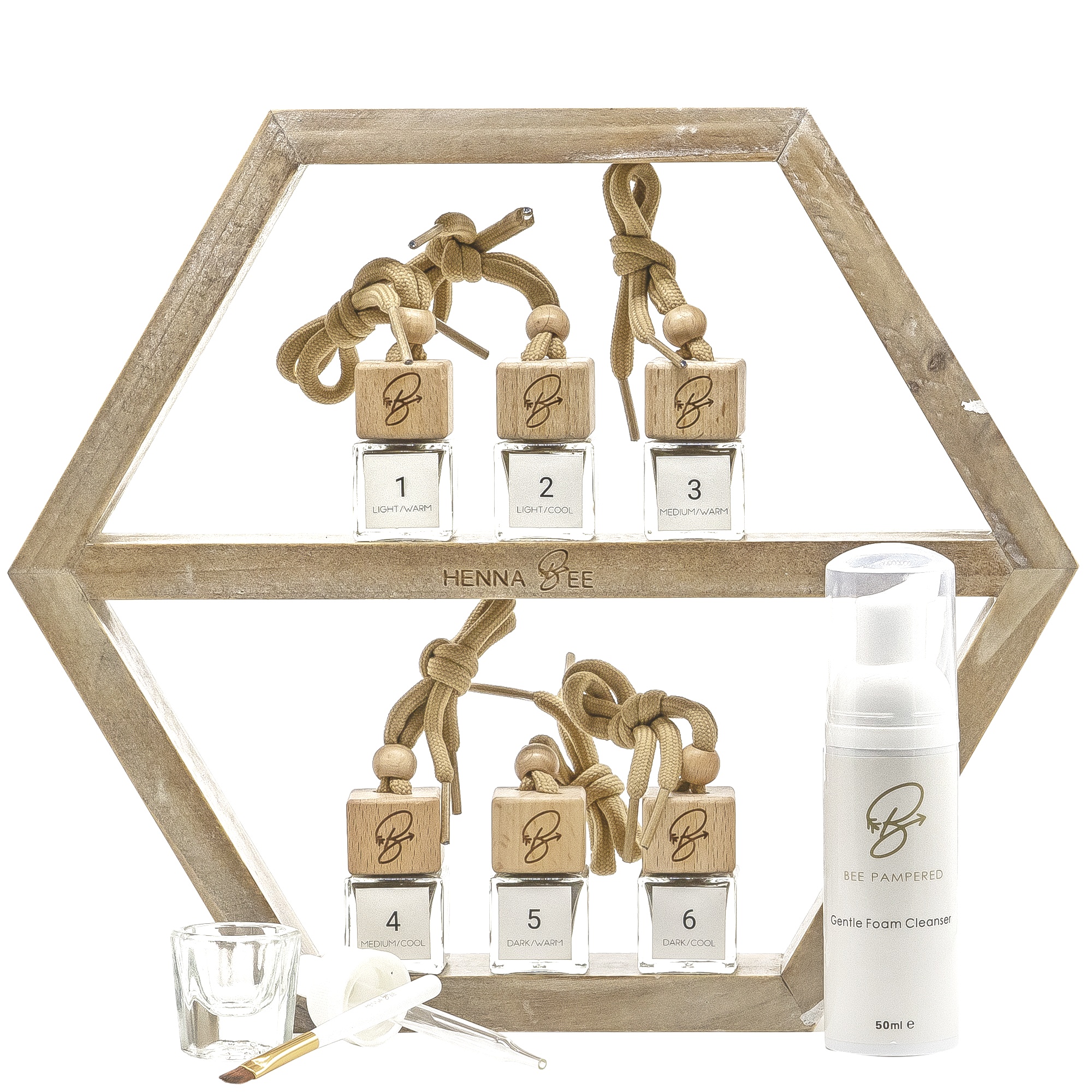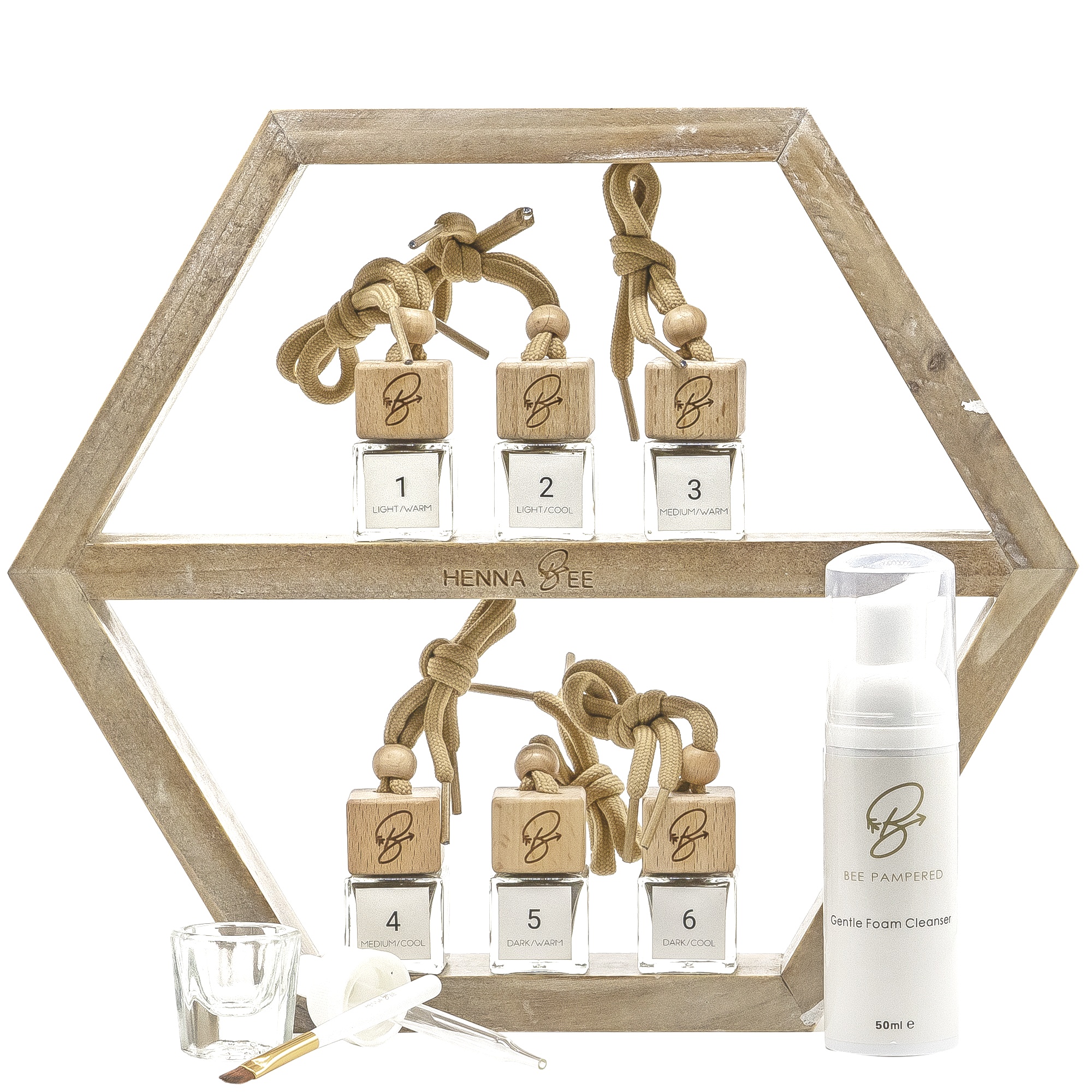 Henna Bee Eyebrow Tint Starter Kit
The Henna Bee eyebrow tint starter kit contains everything you need to begin offering the Henna Bee eyebrow tint service to clients including:
All 6 Henna Bee colors

Tools required for a Henna Bee service

Online access to the Bee Hive which includes training manual & step by step videos, links to purchase Henna Bee refills and the Henna Bee certification exam
HENNA BEE EYEBROW TINT
Henna brows eyebrow tinting is the latest trend in the beauty industry and Henna Bee is one of the leading henna brows products.
NATURAL, PLANT-BASED EYEBROW TINT
Made with 75% plant-based ingredients Henna Bee eyebrow tint is a natural alternative to traditional tints. Henna Bee contains no lead or ammonia and requires no chemicals or oxidants to activate only warm water. Unlike traditional chemical based eyebrow tints which often dry out eyebrows Henna Bee coats the hair locking in moisture keeping the hair healthy and hydrated.
LASTING RESULTS
Henna Bee eyebrow tint lasts on brows for 6-8 weeks. One of the key benefits to Henna Bee is it also stains the skin beneath the eyebrows for up to 2 weeks giving clients a fuller appearance similar to microblading without committing to the procedure. Wondering how the henna brows service and microblading compare? Take a read through our article breaking down the differences between henna brows and microblading.
EASY FOR SPA PROFESSIONALS TO USE & GENERATE REVENUE
Henna Bee is designed to be easy for spa professionals to use and to help maximize profits. Each bottle of Henna Bee provides 20-30 treatments. By offering a 30 minute Henna Bee service at a minimum $35 charge, each 3.5g bottle of Henna Bee can generate up to $1,000. With your initial purchase of the Henna Bee starter kit you receive all 6 colors which could generate up to $6,000*!
To generate more revenue and provide clients with a complete eyebrow transformation we suggest adding a hair removal service immediately following the Henna Bee service.
NON-INVASIVE, NON PERMANENT SERVICE
Get started today with the Henna Bee eyebrow tint starter kit which contains everything you need to begin offering the non-invasive, non-permanent, vegan friendly Henna Bee service to clients including:
All 6 Henna Bee colors:
Light/Warm

Light/Cool

Medium/Warm

Medium/Cool

Dark/Warm

Dark/Cool
All Henna Bee tools:
Bee Pampered foam cleanser

Henna Bee applicator brush

Glass dappen dish

Henna Bee display shelf

Water dropper
Online access to the Bee Hive which includes
Complete training manual

Step by step online training videos

Ability to purchase individual Henna Bee color refills and tools

Online exam to become a certified Henna Bee artist in order to receive an official certificate and recognition in our online Henna Bee artist locator